Carolines on Broadway
1626 Broadway, New York, NY
Tue
February 13, 2018
7:30 pm
The Red Flag: A Comedy Dating Show
$18.00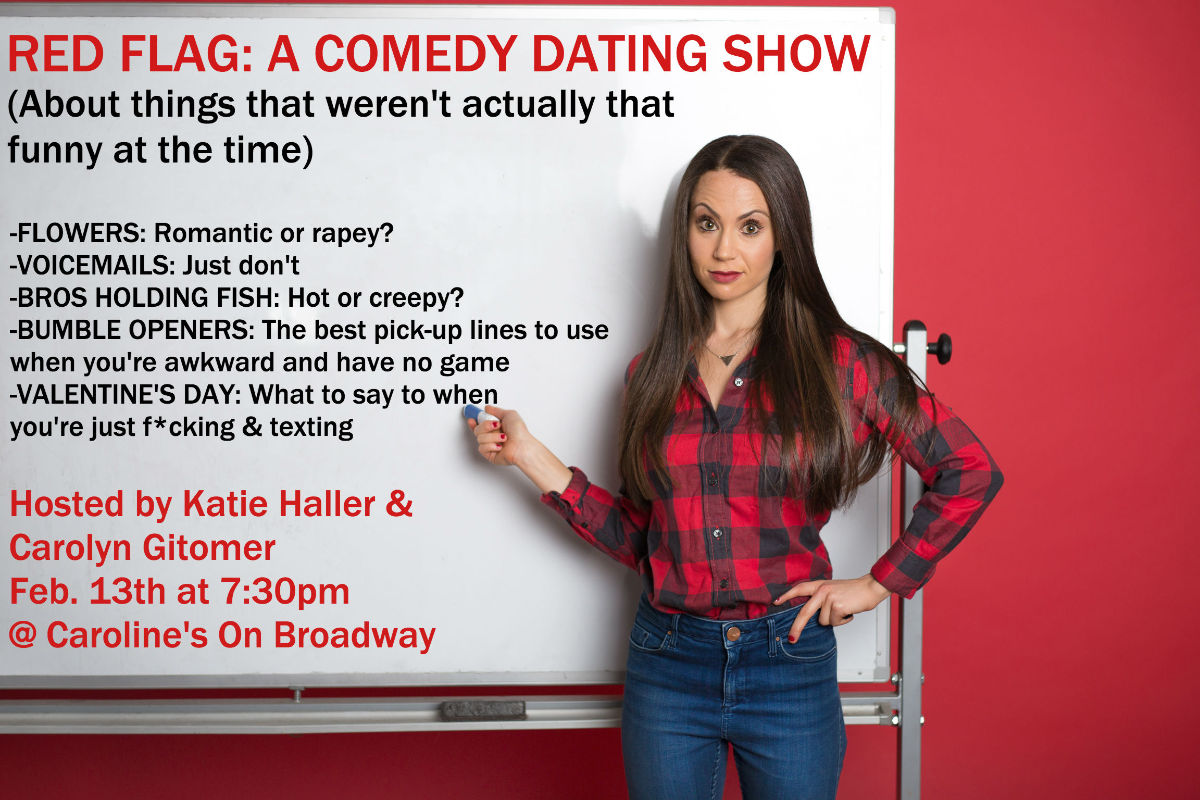 Dating is awkward, Valentine's Day is gross, and relationships are tricky. Just kidding, love is beautiful. Anyway, we're gathering some of NYC's top comedians to share their dating fails, as well as a panel of Sex & Relationship experts to provide some actual advice. There also may or may not be a power point presentation about dating profiles. So whether you're single, in a relationship, or just doing the thing where you pretend it's super casual, this show is for you.

Hosted by Katie Haller with Carolyn Gitomer
Featuring: Last Comic Standing's Mehran Khaghani, Guys We F*cked's Corinne Fisher, Tori Piskin, Emma Vernon, Marc Gerber
Bustle's Michelle Toglia and Elite Daily's Hannah Orenstein
With musical performances by Courtney Demri and T-Spoon
Hannah Orenstein is a dating editor at Elite Daily, a former matchmaker at a top New York City dating service, and the author of Playing with Matches, a novel about a young matchmaker who struggles to set up wealthy New York City couples while her personal life is going up in flames. Previously, she was an editor at Seventeen.com, and her work has appeared in Cosmopolitan.com and Refinery29.
Michelle Toglia is Bustle's Sex and Relationships Editor, where she covers everything from how to talk in emoji on Tinder to what it's like to go on a travel date with a stranger. She runs Bustle's App-less April challenge every year to encourage singles to delete their dating apps and re-evaluate their dating lives for 30-days. Previously, she was the Senior Editor at YourTango, where she also focused on dating and relationships.

Groups over 12 please call 212-956-0101 x.203
The Red Flag: A Comedy Dating Show

Comedy

Comedy