Wire
6815 W. Roosevelt Rd., Berwyn, IL
Fri
October 13, 2017
7:00 pm
(

6:30 pm

DOORS)
Friday the 13th! "Bad Luck & Superstition" [FREE SHOW]
21+
FREE!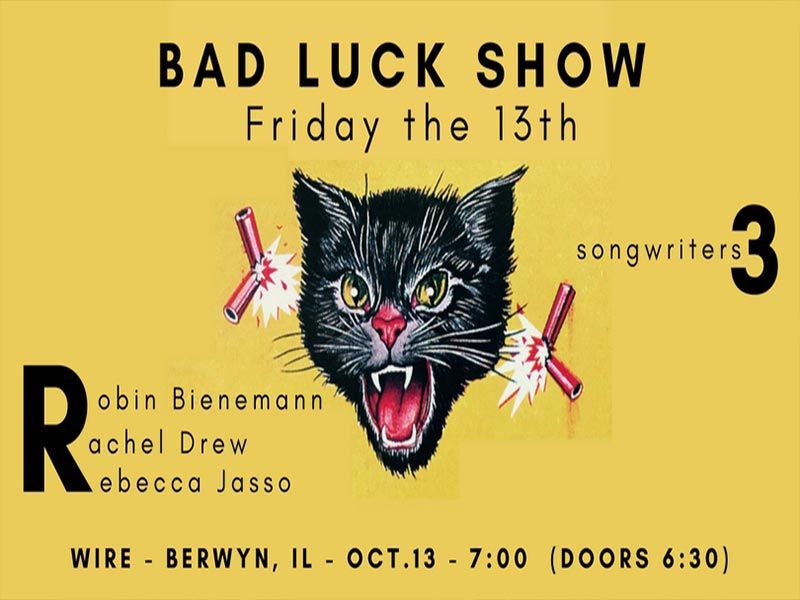 3 songwriters play songs of Bad Luck and Superstition in honor of Friday the 13th!
Robin Bienemann

Pop

Singer-Songwriter

Rachel Drew

Pop

Singer-Songwriter

Here's a little about me: I am from Chicago, growing up near Diversey and Sheffield. I could hear the Ravenswood El from my bedroom at night, along with the folks spilling out of bars. I have always been hearing music in my head, and have been singing for as long as I can remember.

My first album of originals, called "Under the Sun,"was released February 2016. The current lineup of my originals band, Rachel Drew & the Bitter Roots, is: Steve Dawson, Gerald Dowd, Dave Nelson, and the great Alton Smith. I also play songs I've written in the monthly Dowd & Drew residency at Friendly Tap with Larry Brown, Gerald Dowd, Dave Nelson, Josh Piet, and sometimes Scott Stevenson.

Rebecca Jasso

Pop

Singer-Songwriter

Chicago native Rebecca Jasso is a singer/songwriter who playfully writes around the themes of love, loneliness, and fantasy, skillfully weaving her melodies into the harmonic fabric of her fingerstyle guitar playing.

​

Music has had a strong hold over Rebecca since childhood. At age 10, she took up the guitar, and since the very beginning, sought to write good songs. Despite learning at this young age, it wasn't till after college that she worked up the confidence to take her music to the stage. For years, she oscillated between playing solo and in bands, with each wave bringing her closer to chiseling out a style that would be her very own.